In its most basic form, a life coach's role is to assist people in problem solving. Life coaches can be an excellent resource for helping you discover new ways of doing things and overcome bad habits.
However, most life coaches are not cheap. And many people believe they do not have the time to work with a life coach. These are just two of the many reasons you may be wondering how to be your own life coach. Friends, don't worry, we've got you covered. Continue reading.
Video Guide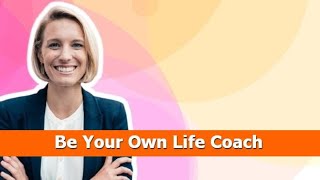 If you don't like the video or need more inspirations, then continue reading.
This post may contain some affiliate links to products that I use and love. If you click through and make a purchase, I'll earn a commission, at no additional cost to you. Read my full disclosure here.
4 Easy Steps to Becoming Your Own Life Coach
Step 1: Take the time to honestly assess your own strengths and weaknesses
What do you excel at? What do you want to get better at? To change something about yourself, you must first identify your problem areas so that you can devise a strategy to address them.
So, honestly and openly answer the following powerful questions: What are your top three strengths, according to your friends and family? What are your top three flaws? How are your interpersonal relationships? What are your biggest apprehensions? This information will come in handy later.
Step 2: Determine your objectives
Okay, so you know what you're good at and what you're not. So, what are you going to do with that information? That is, you set goals to improve both your strengths and weaknesses. You want to keep improving at what you're already good at while also addressing areas for improvement.
This is how you do it. Answer the following questions (make a note of them):
What do you enjoy doing?
What are your areas of special interest?
What are some of your pet peeves?
These questions will assist you in exploring and developing your abilities. Once you've determined your answers, use them to help you set goals. According to research, goals that are specific and not too numerous are easier to achieve. As a result, start small.
Assume your goal is to lose weight. How much weight do you want to lose in total? What is a reasonable monthly goal if it is 20 pounds? Expect to lose no more than 10 pounds per month. It is more feasible to lose 1-2 pounds. Note it down:
This year, I plan to lose 20 pounds.
Every month: I'll drop about 2 pounds.
This week, I plan to lose half a pound.
Take note of how these objectives are phrased. Don't say, "I'd like to…" Say, "I will…" It's a crucial psychological distinction.
Step 3: Keep track of your progress
So you've determined your objectives. The following step is to start a journal. Write down your goals and keep track of the actions you take each day to get closer to them. Make one small change every week and work your way up from there. For example, you can abstain from soda for one week. You can eliminate all sugary beverages the following week. A new habit takes between 1 and 6 months to form, so stick with it and it will become a habit before you know it.
Step 4: Evaluate your results and make changes to your strategy
The final step is to evaluate and test your progress every month. Consider what is working for you. What isn't there? What are some alternative approaches I could take? For example, if you are having difficulty progressing and meeting your monthly goals, consider using online behavior change tools such as Stickk, a cool website that allows you to make health commitments and be held accountable for meeting them.
Finally, if there is one thing you must understand about how to be your own life coach, it is that your mindset will determine whether you succeed or fail. Negative thoughts should be silenced, and everything should be framed in the positive (i.e., "I am," "I will," or "I can").
You will succeed if you are completely committed. Inform everyone you know about the behaviors you wish to modify. Not disappointing others is a powerful motivator for sticking to your goals. And don't be afraid to seek assistance, particularly from people in your circle of friends who have been there and done that.
Remember, at the end of the day, you are the only person standing in your way of achieving your goals.
Related Posts
Dating an Infj Woman: I'm an infj and I find myself frequently frustrated and disappointed by my relationships and friendships with infj women. Nearly every infj woman I've dated has ended up deriving satisfaction from my pain, suffering, and money. Many of them are narcissists. The only infj woman I've ever dated who didn't do this was also a psychopath. I'm done with them, but I don't want our men to have to go through the same bullshit. Read more.
Hiccups Superstition: The superstition surrounding hiccups is believed to have originated in Ancient Romans and Greeks. Romans believed it was the sign of a deceased person and Greeks believed it was because you were out of breath and had to take a breath. Read more.
Karaoke Tips: To sing karaoke well, you need to be able to build confidence and find the right song to fit your voice. Practice before you take the stage. Listen to your voice and notice its tone and what you can do to change it. Karaoke takes a lot of practice and patience, but it's worth it once you're on the stage! Read more.
Is the Relationship Worth It: When thinking about your relationship, the question of whether the relationship is worth it isn't always clear. The truth is, not all relationships are meant to be, and sometimes it's difficult to see the red flags before you get too far in. This article will help you see the signs that your relationship may not be worth your time and effort so you can continue your search for a relationship worth holding on to. Read more.
Taking Something for Granted: Something for nothing. The concept is so simple, so elegant, so enticing. It's a marketing dream. But it doesn't exist. There is no such thing as taking something for granted. That's because when you take something for granted, you also take the risk of losing it. As a content strategist I am here to tell you that you should never take anything for granted. And the same goes for the content you create.So, what do you think?If you've never had a writing prompt before, give it a try.If you have a writing prompt that you think is good, I would love to see it. Feel free to leave it in the comments below. Read more.
↓Free Ebook↓
You have heard it all before: "Live life to the fullest", "follow your dreams", "be who you are" and "if it is meant to be, it will be". These are all wonderful quotes that are meant to help you live a happy life but they miss the point. Our lives are interconnected with each other and with the world.
No matter how hard you think you try, there's always going to be a certain level of stress in your life. And when stress gets out of hand, it can start to negatively affect your life. But this doesn't have to be the case. There are some easy steps you can take to improve your life in the long run, and we've found a few that can help you enjoy a better life and get rid of stress.