No two people who come from a broken family are the same. A broken family may have resulted from a divorce, abuse, neglect, or the death of a parent when the child was young. Others' only knowledge is of a broken family.
It came at a young age for many, and at a high cost to who they would become. There is no definition for how it feels or what it means to come from a broken home.
Video Guide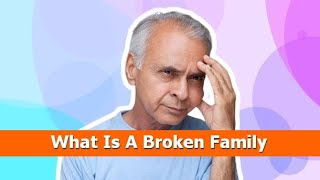 If you don't like the video or need more inspirations, then continue reading.
This post may contain some affiliate links to products that I use and love. If you click through and make a purchase, I'll earn a commission, at no additional cost to you. Read my full disclosure here.
It's not easy to explain, it's not what most people consider normal, and it can bring both happiness and pain. Those who come from broken homes, like everyone else, are trying their hardest to figure out life.
Don't get me wrong: loving someone from a broken family can be difficult, but they will love and cherish you with all of their heart. You are their safe haven, and they will always protect you.
To be able to return the love and loyalty you have received, here are a few facts about people from broken homes that will help you better understand how to love someone from a broken family.
1. They are not easily trusted
Trust is something they have to earn, and it is something they take very seriously. This will be relevant for the duration of your relationship.
Someone they trusted let them down big time at some point in their lives. As a result, it is difficult for them to simply give up their trust in you.
This may be difficult to crack at first, but once you're in, they're unlikely to hold anything back.
2. They will not believe they deserve you at the start of the relationship
You're just too good for them. They don't deserve the love or even the attention you're lavishing on them. This can last for a long time, but you will most likely be unaware that they are feeling this way.
Those who come from a broken family are accustomed to suppressing their emotions and masking them with a smile. When they appear to be down on you, simply give them a compliment and hold them close.
3. During the early stages of dating, they will concentrate on you and avoid lengthy discussions about themselves
At some point during the dating process, you will feel as if they know everything about you, but you don't know everything about them. This is completely normal. When they get into a relationship, it's easier for both of them to talk about positive things, and their home life isn't so great, so they avoid it.
You may be told the names of family members or a funny story here and there, but you will have no idea if their parent is or was an addict or what their family situation is. Don't press the issue.
When they trust you, they will tell you about their childhood.
4. They will be the relationship's sole source of independence
If they don't appear to need you at times, it's because they technically don't. They had to mature at a young age, and some had to care for themselves and their siblings on their own.
They could survive without you, but they don't want to. Don't hold it against them; it will come in handy when they have their own family. And, if you're lucky, that family will be there to support you.
5. It will be difficult for them to meet your family
For them, a normal family is something only dreams are made of. They are uncomfortable talking about your family, and meeting them is terrifying.
They have no idea what to expect, and your stories of childhood and good relationships are far from their reality. Be encouraging and gradual in introducing them to the family. They will open up to you about their family once they see how yours interacts, giving you a better understanding of who they are.
6. Arguments will either be filled with emotion or will be completely turned off
An argument can go one of two ways, depending on the topic and how comfortable they are with you. When an argument arises early in the relationship, it is likely that they will listen more than they will talk.
They don't necessarily want to disagree with you, but they do want two things to occur. They want you to be happy at the end of the argument, and they want the argument to be over as soon as possible.
In the heat of an argument, they will be extremely anxious and wonder if this will lead to you leaving them – just as everyone else has. The second possibility is that this will result in extreme emotion.
By this point in the relationship, they are most likely at ease with you. They are no longer concerned about you leaving them because of this fight, and they will express their feelings to you. Don't leave things unresolved, no matter what situation you're in. They need to know that everything is fine at the end of the day.
7. They will no longer hide from you once they have fallen in love with you
You will know when this happens, no matter how long it takes. Allowing someone in enough for them to fall in love is a big deal for them. They will have begun to open up to you about their past and family at this point in the relationship.
You'll have a good idea of how they feel about their home life. This may appear to you to have appeared out of nowhere, but it most emphatically did not. They went over it in their heads several times and came to the same conclusion each time.
You're worth inviting in. You are compassionate and nonjudgmental, and they know you love them in return.
8. Marriage will be an awkward topic for them to discuss
They love you by this point, you know everything that makes them who they are, and you've both met each other's families, but something is still wrong. First and foremost, try not to become frustrated with them. Marriage is a fairy tale for most people, and one that did not go so well in their family.
Don't get upset because it's all they know. Over time, they will begin to see a long future with you and will be more open to exploring what marriage with you might be like.
9. The day they marry you will be the happiest day of their lives
They will be overjoyed once they get over the initial shock that they are actually getting married. They have moved on from their past and are looking forward to beginning a new life with you.
They are completely devoted to you, and this will be the happiest day of their lives – at least until the two of you have children.
10. They will be wonderful parents
Because of everything they experienced as a child, they will know exactly how they want to interact with their children. They will want to provide their children with the life they wished they had.
Being a parent can be terrifying for anyone, but they will handle it gracefully. If you've gotten this far with them, you're their everything, and they'll do everything they can to make your little family the best it can be.
Related Posts
How to Stop Blaming Yourself: We all make mistakes, some more than others. They are a part of life. But, there's an important difference between making a mistake and blaming yourself for it. Blaming yourself for making a mistake can lead to negative feelings. Cynthia Alster, author of The Truth About Blame, says that blaming yourself for a problem makes you feel "unsafe, worthless, or undeserving." It's not helpful or productive to feel this way about yourself, but it is easy to fall into the trap of blaming yourself. So, instead of blaming yourself for your mistakes, focus on what you can learn from them. Instead of beating yourself up, think of how to improve yourself. Instead of beating yourself up, think of how to improve yourself. Read more.
Personal Fulfillment: Work can be an isolating experience, but it is important that we remember that we are social creatures and we need human interaction. By surrounding yourself with positive and like-minded people, you can find a sense of fulfillment in your work and in your life. When you feel fulfilled in your work and in your life, you will experience a sense of personal satisfaction and happiness. Read more.
What's Holding You Back: With all the reasons why you should start a business, it might be easy to forget about the reasons why you shouldn't do it. In fact, there are a lot of reasons why you shouldn't start a business. But the only reason why you should start a business is because you have a strong desire to do it! If that still seems a bit intimidating, then remember that you don't have to start a full-scale business in order to start a business! You can start a business in a side project in the mornings before going to work! That's a great way to test the waters and see if starting a business is for you! Read more.
How to Think Quicker: We all want to think quicker. We all want to feel smarter. We all want to be more productive. Though, how do you train this ability? How do you make yourself able to think quickly? The best way to think quickly is to practice. Thinking quickly is an ability that comes with practice. So, look at the information you are trying to retrieve. Break this memory into smaller chunks. Then, really think about it. Visualize what you're trying to remember. Then speak it out loud. Do all of this, and you'll be able to think about the information quicker!# Extra Credit Read more.
Confident With Women: It's easy to be confident with women, all you have to do is smile, treat them with respect, and be yourself! Remember, the key to being the most attractive to women is to give them what they want. And what do women want? The answer may surprise you! Look for someone who has the same interests as you, it's important to be able to connect with others. If women sense that you're easy to talk to, they'll definitely want you around! Remember to keep the conversation about them, listen to what they're saying, and let them lead the way. You'll be surprised at what you'll learn. Read more.
↓Free Ebook↓
You have heard it all before: "Live life to the fullest", "follow your dreams", "be who you are" and "if it is meant to be, it will be". These are all wonderful quotes that are meant to help you live a happy life but they miss the point. Our lives are interconnected with each other and with the world.
No matter how hard you think you try, there's always going to be a certain level of stress in your life. And when stress gets out of hand, it can start to negatively affect your life. But this doesn't have to be the case. There are some easy steps you can take to improve your life in the long run, and we've found a few that can help you enjoy a better life and get rid of stress.